Charities Regulator Report by the Numbers
As we saw in last weeks' blog there is a wide variety of charity on the Register of Charities in Ireland.
This week we look at the percentage of charities by income and numbers of employees.
Charities by Income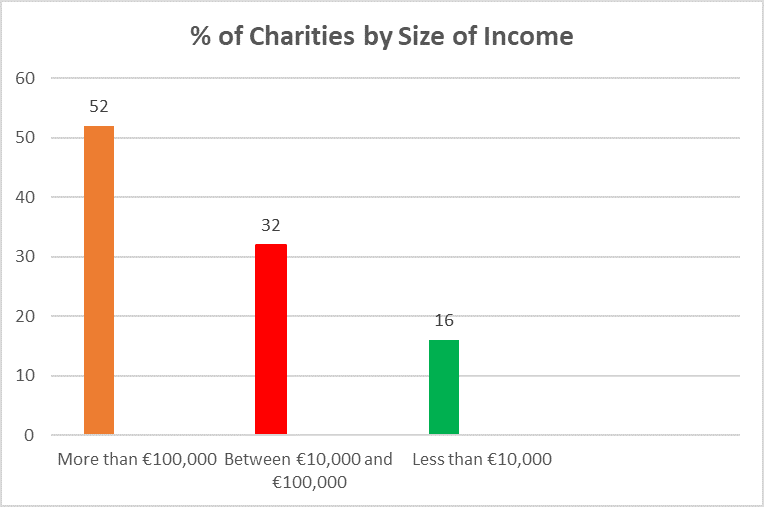 52% of charities had annual income of more than €100,000, 32% had annual income of between €10,000 and €100,000 while there was a sizeable 16% of charities with income per annum of less than €10,000.
Within the 2,165 charities reporting an annual income of over €250,000 in 2019, 875 (40%) had income in excess of €1 million.
Charities by Employee Numbers
43% of charities had no employees. 42% reported having between 1-19 employees, 8% had between 20-49, 5% had 50-249, while 2% had between 250-499.
The 2019 Charities Regulator Annual Report can be found here.
Our Charity Accounting and Charity Audit webinars are available here for immediate access and come with much support material as an extra free bonus.
We also have several audit template letters for charities that are up to date for FRS 102 SORP, GDPR and Coronavirus (COVID-19) downloadable for immediate tailoring in MS Word.
For a full list of all our webinar recordings, please go to our webinar site here. They may be viewed at any time for 12 months after the date of purchase.
We also have a complete set of charities letters of representation in our publications store, updated for SORP and Coronavirus (COVID-19), and letters of engagement for immediate download here.  There are also versions available for charities not yet implementing the SORP.